You should prepare yourself to be open mind, ready to learn and understand, flexible to the totally new environment you are coming to. We give our 100% and expect the same from you. You should bring with you all that you may need to equip yourself at a place so far away from home, but don't hesitate to ask us in case you need anything. Rishikesh offers you all the basic necessities and we are here to assist you in all that you need. Be prepared that the course is intensive and you will have to dedicate your time physically and mentally, you will have to do assignments and interact with the teachers and fellow students to get most out of the intended course. Be prepared that you may face difficulties at times but remain confident, we are ready to provide you solutions and comfort if you come and talk to us as and when you feel problem.
Bring two passport size photographs for our record and certificate, copy of 200-hour Certificate (if you are registered for 300 hour ttc), mobile phone, cords of the electronic devices, ATM Debit Card (for the best exchange rate), flashlight torch or headlamp, raincoat/umbrella, clothes that suits the season you are coming, comfortable clothes for yoga practice, swimming clothes, shoes (at least two pairs), toiletries, hot water bottle if you come between November and February, travel towel, first aid kit and basic medications, any personal belongings like camera. You may want to bring musical instrument, mp3 player or movies, mosquito net, nail kit, knife, scissors, biodegradable soap, or anything else that you think is necessary.
Vishwa Shanti Yoga School is located in Hotel Yog Vashishtha, Ram Jhula, nearby Vanprasth Ashram II, Swargashram, Rishikesh – India. Cross Ram Jhula, the bridge, and walk towards Vanprasth Ashram II. Your accommodation will be in Vashishtha Guest House, food and yoga classes will be held in Hotel Yog Vashishtha.
We recommend you to apply a month prior to departure. Tourist visa is generally valid for six months from the day it is issued. Please confirm with the Indian Embassy in your country about the validity. You can also apply for e-tourist visa if you need it instantly but it is valid for only 30 days and you may not be able to attend the full course or return after completion of the course, so calculate time carefully. Remember that you are expected to reach the school by the eve your classes begin and leave on the next day of graduation ceremony i.e. the last day of the class.
The weather in Rishikesh varies with changes in season. We can breakdown the monthly weather condition for your preparation with clothes and other equipment.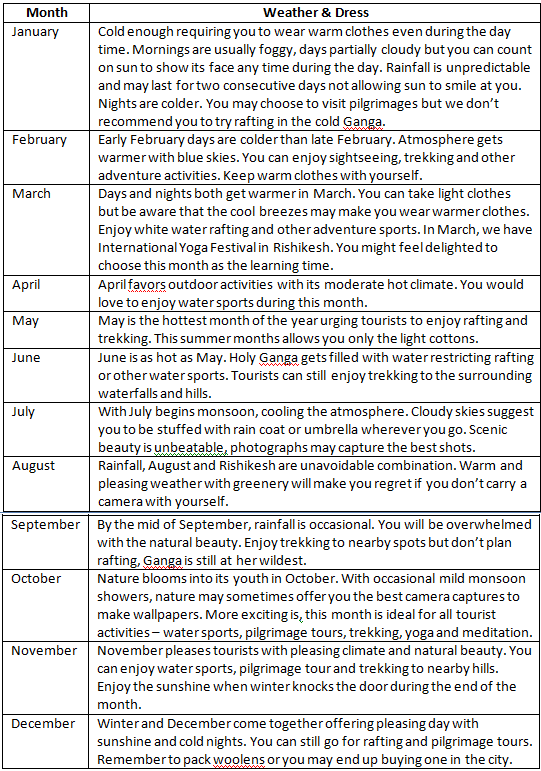 We expect you to reach the school one day prior to class date, this will offer you time to rest and be familiar to the place. Your stay from one day prior to the course date will be complimentary, you can reach by 5PM of that day. We will have fire ceremony at 10AM, this is the formal beginning of the class.
Our classes end on Saturday so you can buy flight tickets for Sunday; you can leave the school early morning that day. If you think you will have some plans to travel around India with your new friends, plan accordingly.
You can book a taxi through us from Delhi or Dehradun airport or even Haridwar railway junction. Costs – US$ 70 from Delhi airport or hotel; US$ 20 from Dehradun airport or Haridwar junction.
Yes, we are registered with Yoga Alliance as RYS 200 & RYS 300 since March 2015
We provide you a certificate that you should use to register yourself in Yoga Alliance USA as registered yoga teacher 200 or 500 (RYT 200 or RYT 500).
Sign up your account in YA USA and register yourself as yoga teacher. You will be asked to upload your teacher training certificate. Once you upload the certificate we have provided on completion of your course, YA will send us an email to verify your eligibility for the certification. We will verify your eligibility and YA will send you an email to confirm your registration. Congratulations!! Now you can work as registered yoga teacher anywhere around the world!
Pay non-refundable deposit of US$ 200 for 200 & 300 hour YTTC and US$ 400 for 500 hour YTTC to book your seat. The remainder of the course fee should be paid in cash (USD, EUR, CAD, AUD, GBP or INR) upon arrival at the school. If you want to pay the whole amount through paypal, it will attract 5% transaction fee. [The transaction fee is subject to change according to the service tax policy of government/paypal].
You should apply for Tourist Visa. Remember, you should not mention about joining a yoga course in the visa application form because it may lead to complications. Registering to our course does not secure study or yoga visa for you. We can guide you further on this once you book your seat with us.
Pack comfortable clothes that allow you to stretch and contract your body. We call it yoga clothes. You may want to cover your body when working on different poses, be careful while choosing the clothes. If you want to swim in the Ganga, pack something that would cover you well and you will like to soak. We don't recommend our students to jump to the river with swimming costume, for Indians and Hindus worldwide, Ganga is the holy river who they worship and pray to. They bathe in the holy river with a belief that they will be liberated from the worldly pain and pleasure. Also, you will certainly want to avoid people staring at your body. Carry some modest clothes for pilgrimage tours and to roam around in the city. Try to cover your body while roaming around because this is India, people here have a culture of covering themselves. Comfortable shoes have no option. You can also bring light flip-flops or choose to buy here in cheap rate as low as INR 200 (may be less than that).